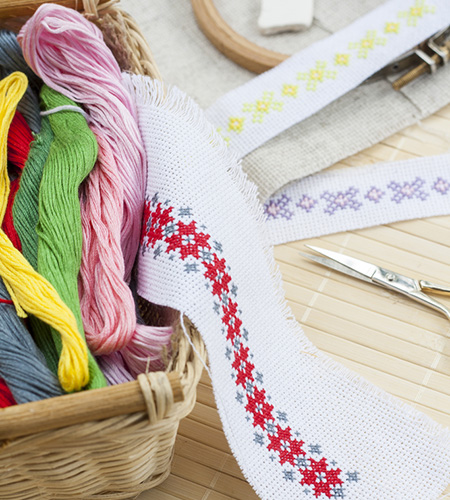 Countless counted cross stitch supplies are located in store or can be custom ordered from our inventory in Blue Springs, MO. With over 225 different fabric choices, we guarantee you will find exactly what you need to meet your project needs.
Unsure of where to start? We have many cross stitch models on display in our shop to spark ideas and inspiration. Our staff is knowledgeable on all things cross stitch and happy to help you choose the best fabric, fibers and techniques to start or finish your project.
Browse our cross stitch patterns in store or order from our complete inventory in Blue Springs, MO. If you're unable to stop into our store, browse our cross stitch fabrics, threads and accessories that will be shipped directly to your home.
Contact Us Today!
Online Ordering
Our partnership with the Merchant Mall allows customers to shop Hoffman's Catalog, which offers 300+ designers and more than 12,000 charts. View the catalog to select patterns and counted cross stitch kits you would like to purchase.
Independent Creative Group is another online site our customers are able to order counted cross stitch supplies from. Similar to Hoffman's Catalog, ICG offers a large selection of cross stitch fabrics, patterns and designers.
If you wish to purchase items from these two companies listed above or additional items from other designers or companies, send us an email. Include your name, phone number and the items you'd like to purchase within the email and let us know whether you would like to pick up your order in store or have it shipped directly to your home.
Floss, Fibers and Threads
Weeks Dye Works Floss
Sampler Threads and Simply Shaker Floss
Classic Colorworkes Floss-TDPPlus these Cross Stitch Fabric Lines:
Fiber on Whim,
Fox & Rabbit,
Mystic Stitch,
Plus Lakeside Linen and several others.
By special order:
Caron
Valdani
Dinky Dyes
Glissen Gloss and more!
Designers We Love
Independent Creative Group
Rosewood Manor
Mill Hill
Pine Mountain
With Thy Needle and Thread
Little House Needleworks
Stoney Creek
Glendon Place
Plum Street
Come Stitch With Us!
Ready to start stitching in Blue Springs, Grain Valley, Jackson County, and Kansas City, MO? Get the fabrics, materials and counted cross stitch kits you need at C. C. & Company. Stop in and visit us today or give us a call at 816-229-2950 for custom framing and more.
Contact Us Today!